PERSONAL TRAINING
Finding time to train in today's busy society is not easy. Making sure that you use that time effectively is even harder. Many people that work out in a gym find that staying motivated, working consistently at the right intensity, and monitoring progress is a time consuming and difficult task. Working with a personal trainer can alleviate these problems.
We are here to help you effectively utilize your time, keep you motivated and monitor your progress by making changes to your program as you progress. All you need to do is show up, ready to go! By utilizing the information gathered from your consultation we will provide motivating, effective and challenging yet fun workouts for you, that will lead you on the path of success to achieve all of your health and fitness related goals. No more repetitive programs and no more dreading the gym.
Throughout the training process we will continue to adapt your program as you improve, and continuously consult with you regarding your likes and dislikes, level of satisfaction and feedback regarding your training sessions.
NUTRITIONAL COACHING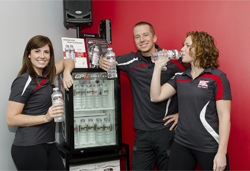 As nutrition and wellness specialists we provide you with plenty of dietary guidance that will assist in obtaining all of your health and fitness goals quickly and easily. You will learn a basic knowledge and understanding of the following topics and how they play a key role in your overall health and well being:
Balance, Variety and Moderation
Food Labels and storage
Carbohydrates, Protein, Fat
Vitamins, Minerals, Fibre & Water
Preparation and Healthy Menus
How to eat out and still eat healthy
What to avoid and why to avoid it
Defensive eating habits
Enhancing physical performance
Putting it all together
Nutrition is every bit as important as exercise. If you plan on improving your physical appearance through intense exercise, you better know how to properly fuel your body for optimal results.
GROUP TRAINING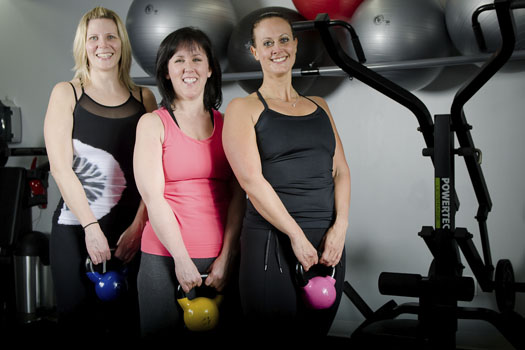 If you and a group of friends like to train together and want to try something new, then our group workout sessions is for you and your friends. The intensity of the workout is personalized to the demands of you and your group.
Group workouts are a great way to motivate yourself through a high intensity workout.
We are currently offering group sessions for Kettlebells, Fitness Kick Boxing, and Circuit Training. Sessions are $100 per group, with a minum 10 session purchase.
Call 905-619-1FIT for more information, or pre-register yourself by filling out our online form.
PARTNER TRAINING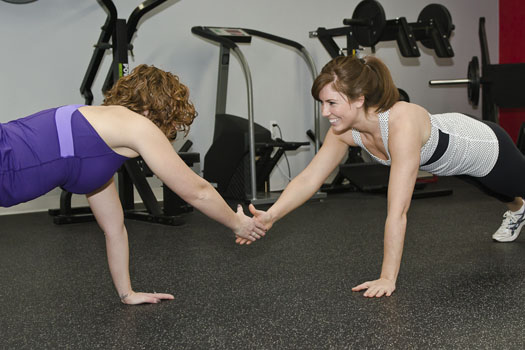 We understand that working out can be an intimidating thing the first time and with that in mind we offer our clients the chance tojoin us with a friend or loved one for partner training.
In these sessions we will incorporate many different training methods that are fun and interactive, involving the participation of both clients.
Learn how to work together and help motivate each other towards your respective fitness goals. Contact us for pricing.

BOOTCAMPS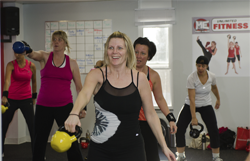 Upon entering Me First Fitness, awarded the Diamond award for Best Boot Camp from News Advertiser from 2009 to 2015, guests notice a distinct absence of rows of people doing the same exercises over and over on the same machines again and again. Here, patrons battle their own body weight with TRX suspension trainers, swing kettlebells, lift weights, and shed pounds using the Fitness Bootcamps to whip themselves into shape.
The staff of certified and specialized trainers push patrons to achieve healthy lifestyles through physical group training and offer 40 different classes each week, including high-intensity interval training bootcamps. They boast that no two classes are ever the same, preventing minds from getting bored and bodies from becoming accustomed to the movements, thus rendering workouts less effective. Each and every bootcamp is unique, challenging and most importantly, fun. With 8 certified instructors here for you, there is plenty of variety and our classes are always different.
CIRCUIT & INTERVAL TRAINING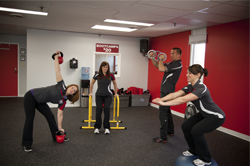 Circuit training is a type of interval training in which strength exercises are combined with endurance/aerobic exercises, combining the benefits of both a cardiovascular and strength training workout. 'Circuit' means a group of activities and refers to a number of selected 'stations' positioned around the facility that are to be visited in rapid succession
We offer both group and individual circuits, for all experience levels, beginner to advance. Circuits we offer include, Strength Training, Cardiovascular, Step & Aerobics, Fitness Kickboxing, Plyometrics, Kettlebell and Core.
CARDIO MACHINES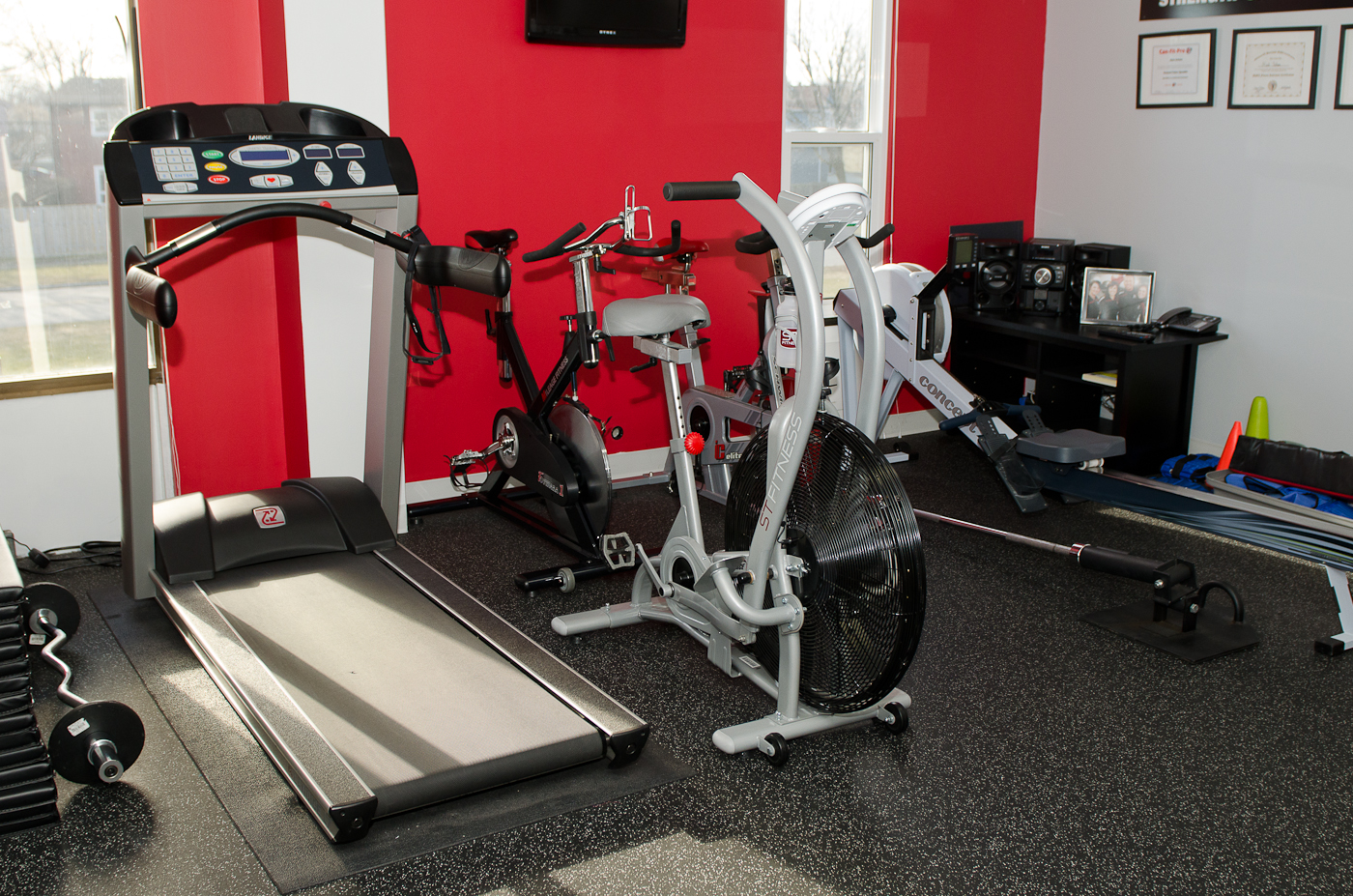 Warm up before your workout on one of our many cardiovascular training devices. At our studio we offer you the newest and most innovative as well as traditional kinds of cardio training.
Choose your favourite piece. We give you access to Concept 2 Rowing Machines, Landice Commercial grade treadmills, Schwinn Spin and Fan Bikes as well as Commercial Quality Stairmasters. Or if you prefer grab a skipping rope or the original step for more body weight inspired warm ups.
STRENGTH MACHINES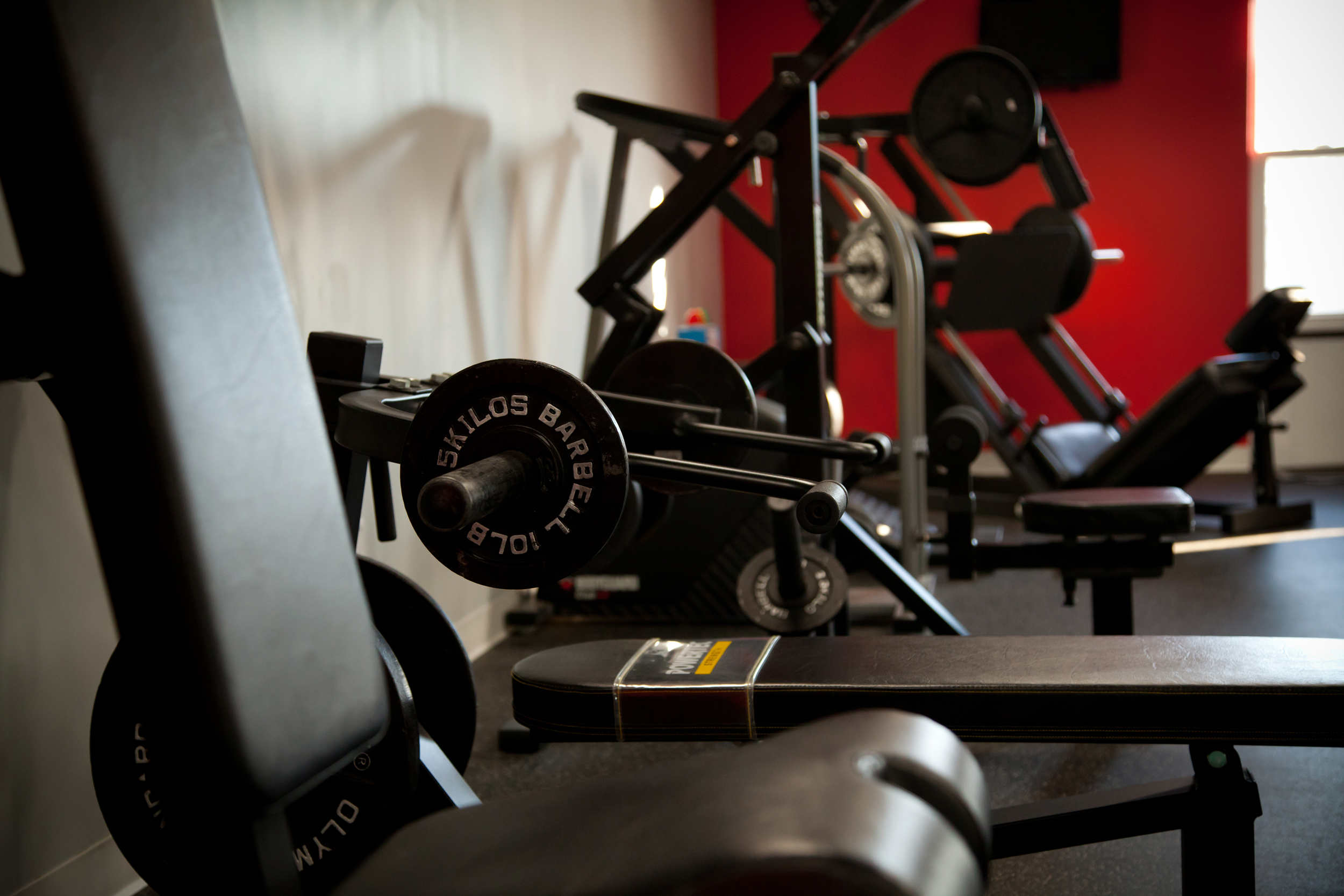 Not only do we carry the largest selection of free weight equipment of any studio in Durham Region, we also provide you with the traditional strength training machines to help develop and build strength, power and pack on loads of lean muscle.
In addition to our Power Rack complete with Lat Tower and High/Low pulleys, we also offer commercial grade Leg Press, Shoulder Press, Chest Press, Squat and Calf Raise Machine and Lat Pull Down Station. All functional and dedicated to isolating individual muscle groups to build more strength and more power than anything else.
SENSATIONAL STRETCHING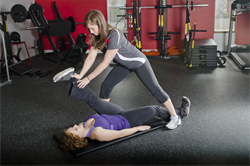 Stretching is the activity of gradually applying tensile force to lengthen, strengthen, and lubricate muscles, often performed in anticipation of physical exertion and to increase the range of motion within a joint. Being able to take a joint through its full range of motion gives us more freedom of movement. Relaxing tight muscles feels good and balances the body.
To help you achieve your ultimate level of suppleness, our hands on stretch programs are custom designed to suit our client's needs. We put into practice the following four types of stretching; active, passive, static and PNF. Reduced muscle tension, increased range of movement in the joints, enhanced muscular coordination, increased circulation of the blood to various parts of the body, increased energy levels are all benefits from a regular stretching program.
BOSU BALANCE TRAINING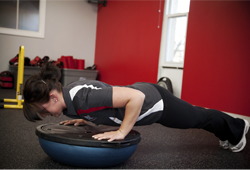 The BOSU Balance Trainer is like an exercise ball that's been cut in half with a platform on the bottom. You can use it dome-side-up for cardio, lower body strength, or core moves. You can also turn it over and use the platform side for upper body exercises, like push-ups, or more core moves, like planks. The possibilities are endless.
It is good for cardio, strength, flexibility and sports training. Doing exercises on the Balance Trainer requires you to maintain your center of gravity over a surface that is constantly changing. It helps to improves balance, kinesthetic awareness and proprioception. The best thing about the Balance Trainer, besides its versatility, is that it adds fun to your usual workouts.
KETTLEBELL TRAINING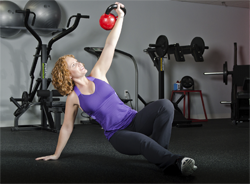 A kettlebell is a cast iron weight that resembles a cannonball with a handle, used to perform ballistic exercises that combine cardiovascular, strength and flexibility training. By their nature, kettlebell exercises build strength and endurance, particularly in the lower back, legs, and shoulders, and increase grip strength. The basic movements, such as the swing, snatch, and the clean and jerk, engage the entire body at once, and in a way that mimics real life activities.
Kettlebell training builds firm, tight, toned bodies and improves mental toughness. All clients at Me First Fitness are encouraged to learn the fundamentals of Kettlebell training and we include kettlebell training in both our one on one sessions and group classes as well as in our at home workout routines.
TRX SUSPENSION TRAINING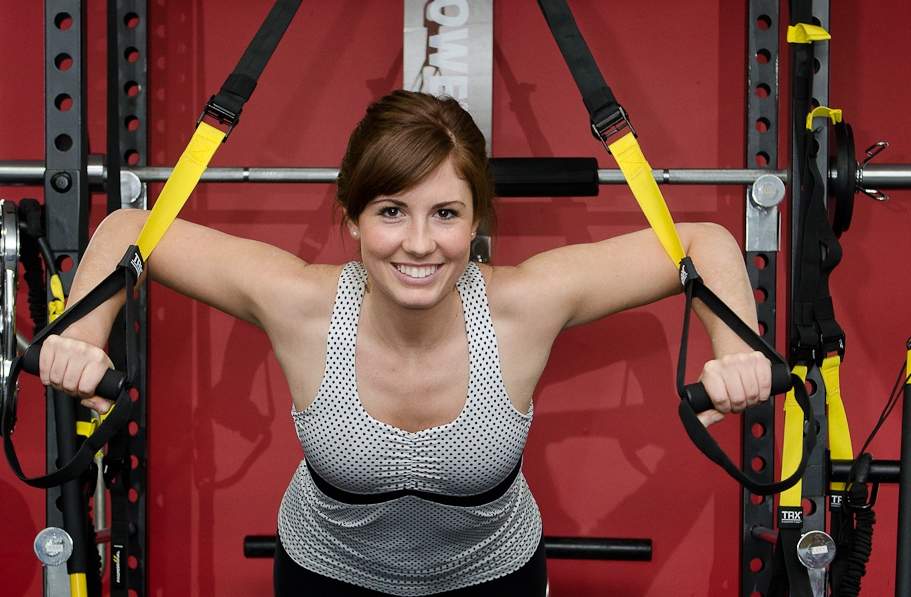 Suspension training uses a system of ropes and webbing called a "suspension trainer" to allow the user to work against their own body weight. It allows for a variety of multi-planar, compound exercise movements. These are done with the aim of developing strength, balance, flexibility, and joint stability simultaneously. Suspension Training can be considered a type of resistance training
TRX suspension training develops core body strength, as well as joint and muscular stability and essentially turns every movement into a total-body one, reducing the chance of injury.

FITNESS KICK-BOXING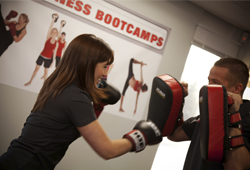 Fitness Kick-boxing is a great cardiovascular and resistance workout that helps you learn valuable self-defence skills all at the same time. Kickboxing has its roots in martial arts and was originally limited to being a full contact sport; however, in the new millennium 98% of participants join strictly for the fitness.
Fitness kickboxing offers the opportunity to train like a real kick-boxer, gaining all the benefits without having to get in the ring. Studies conducted have revealed that a 45-60 minute kickboxing class can burn off 600-800 calories.
In addition to the weight loss you are building lean muscle which raises your metabolism burning calories at rest and toning the whole body. The kicking exercises concentrate on the thighs, hips and buttocks unlike any other workout. While the punching techniques help firm and tone the arms, shoulders and core.
BODY BAR PUMP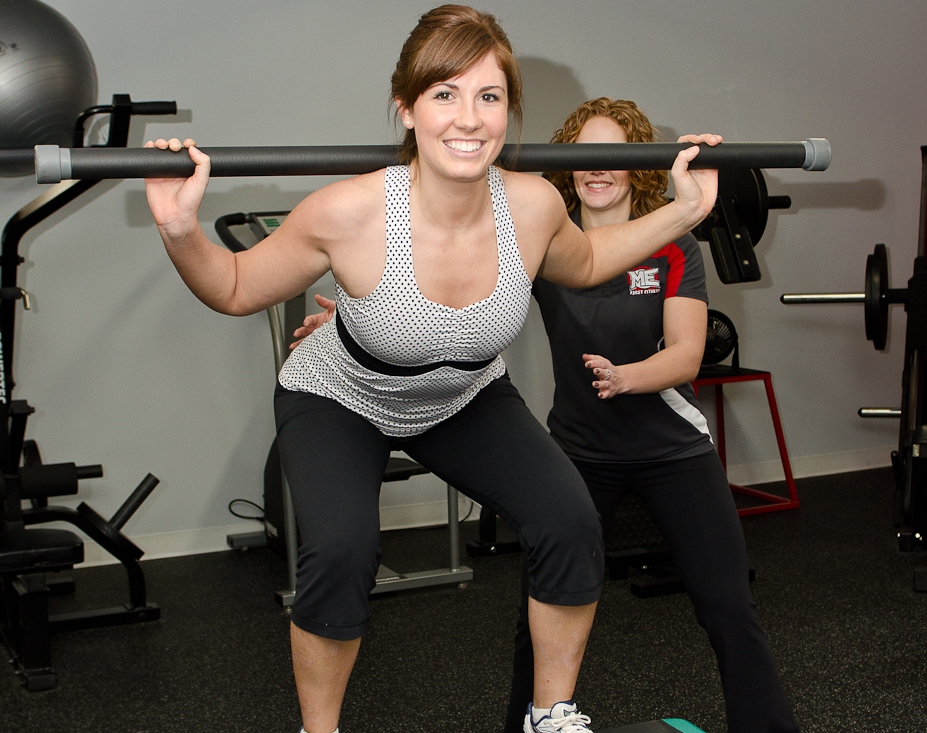 The Body Bar is a classic fitness tool. It's a one piece solid steel, weighted fitness bar encased in high quality easy grip rubber for a secure and comfortable grip. User friendly and versatile, The Body Bar can be used in group exercise, with a personal trainer or for physical therapy. The Body Bar is utilized in a wide variety of workouts including strength training, cardiovascular conditioning, circuit/interval, kickboxing, step, and Bosu balance training.
The Bodybar's wide range of weight, from 5 to 25lbs, allow us to get the full effect of a body pump class, without the hassles of taking weights on and off the bar, constantly slowing down the workout.
PLYOMETRICS
Plyometrics is a type of exercise training designed to produce fast, powerful movements, and improve the functions of the nervous system, generally for the purpose of improving performance in sports. Plyometric movements, in which a muscle is loaded and then contracted in rapid sequence, use the strength, elasticity and innervation of muscle and surrounding tissues to jump higher, run faster, throw farther, or hit harder, depending on the desired training goal
Plyometric training once used only for enhancing sporting performance is quickly becoming a favourite training method of the general population, producing fun and exciting workouts while improving functional capabilities of the human body.
FREE WEIGHTS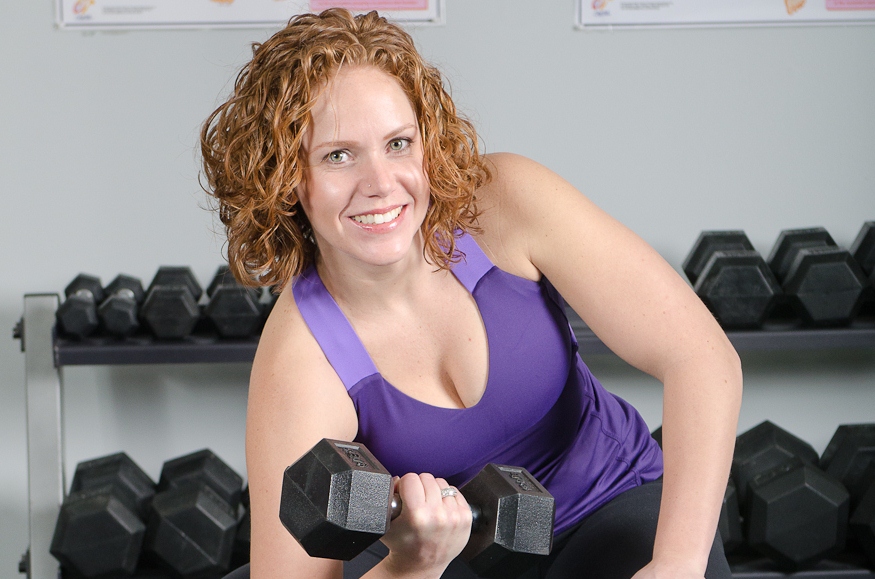 Weight training is a common type of strength training for developing the strength and size of skeletal muscles. It uses the force of gravity (in the form of weighted bars, dumbbells or weight machines) to oppose the force generated by muscle through concentric or eccentric contraction. Weight training uses a variety of specialized equipment to target specific muscle groups and types of movement.
There are many benefits of strength training including, physical appearance and strength, higher bone mineral density, improved posture and the lowering of your resting hear rate, but the most important one of all is the increase in lean muscles mass, which helps to speed up your metabolism allowing you to burn more calories and shed more fat, helping you manage weight more efficiently
MEDICINE BALL TRAINING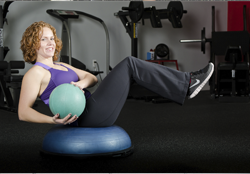 Medicine ball training is a fun and innovative way to help improve your dynamic flexibility, increase your overall range of motion and tighten your core muscles. Catching and throwing of medicine balls, are used to develop arm and upper body speed, strength, and balance.
The medicine ball is a great compliment to any circuit or bootcamp and is a good way for the client and trainer to interact in medicine ball partner exercises, such as throwing, catching, tossing, and passing, rolling or bouncing drills.
STABILITY BALL TRAINING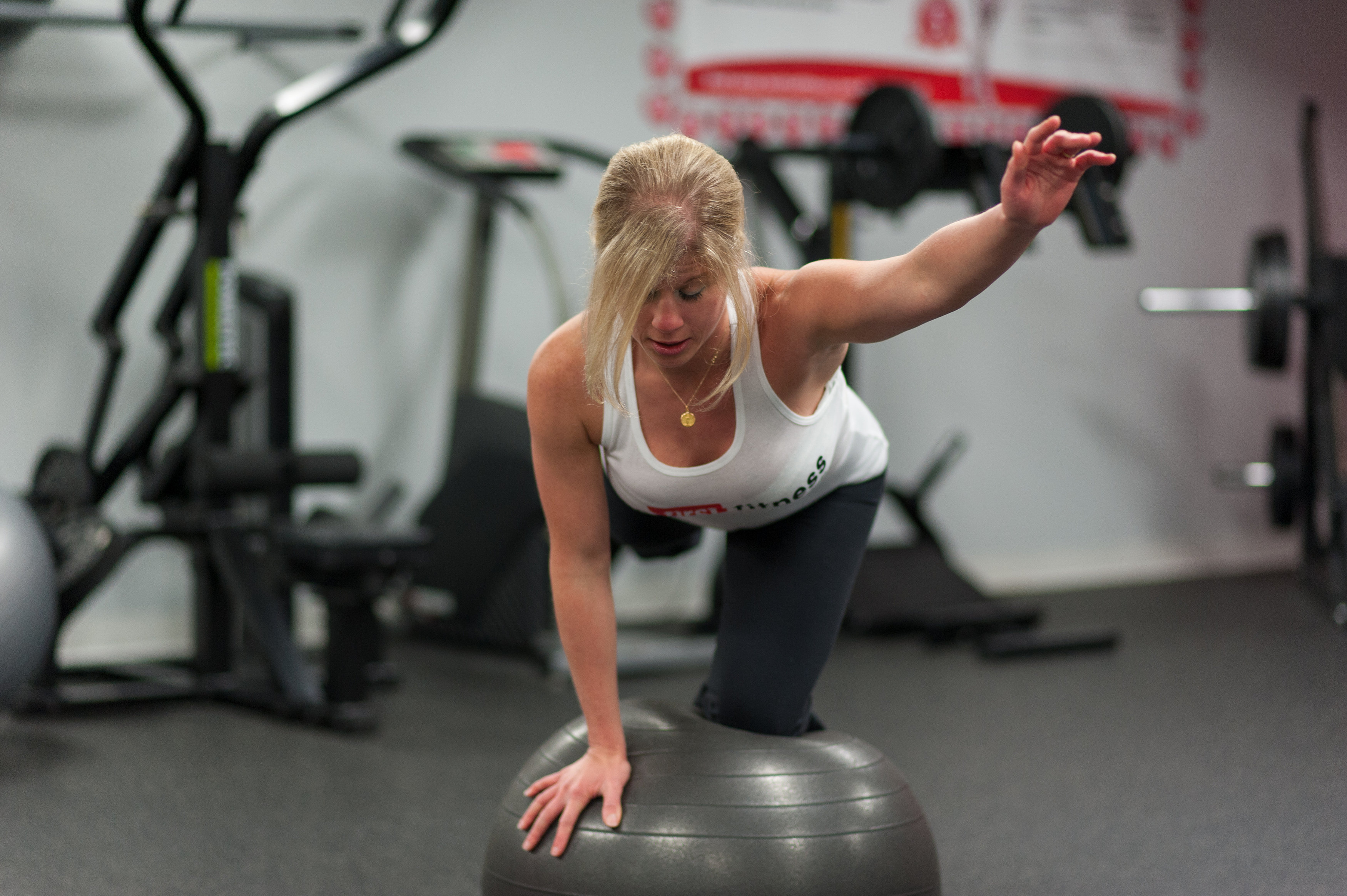 One of the latest trends to be introduced into our industry has been Stability Ball training. Stability balls are large inflatable balls, which are made of sturdy material that allows users to sit, lay, kneel, and even stand to perform varying degrees of exercises. The dynamic nature of the ball improves balance, posture, body awareness, coordination, and allows for different positioning options to increase the challenge and progress the exercise's level of difficulty.
TRX RIP TRAINER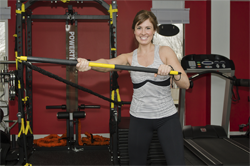 Originally created to meet the needs of combat sport athletes and physical therapists the Rip Trainer provides a unique mix of rotational resistance, core stability, and coordination training. Its innovative lever bar and resistance cord system creates a variable, asymmetric load, ideal for training balance, explosive power, or adding a high-intensity metabolic challenge to your workouts.
ANACONDA ROPES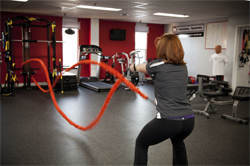 The Anaconda is a hard-core piece of fitness equipment designed for strength training, MMA training, sports conditioning, personal training, boot camps and more! The Anaconda is a revolutionary way to develop explosive speed, power and cardio - all in one workout. Unlike traditional battling ropes, the Anaconda adds multiple levels of difficulty by incorporating resistance training to velocity training - something no other piece of fitness equipment can do! This ensures that your core, glutes, quads and hams - as well as your entire body - are engaged during workouts to maximize your results, faster! The Anacondas covered resistance tubing also allows you to use infinite variations of resistance training movements for workouts!
YOGA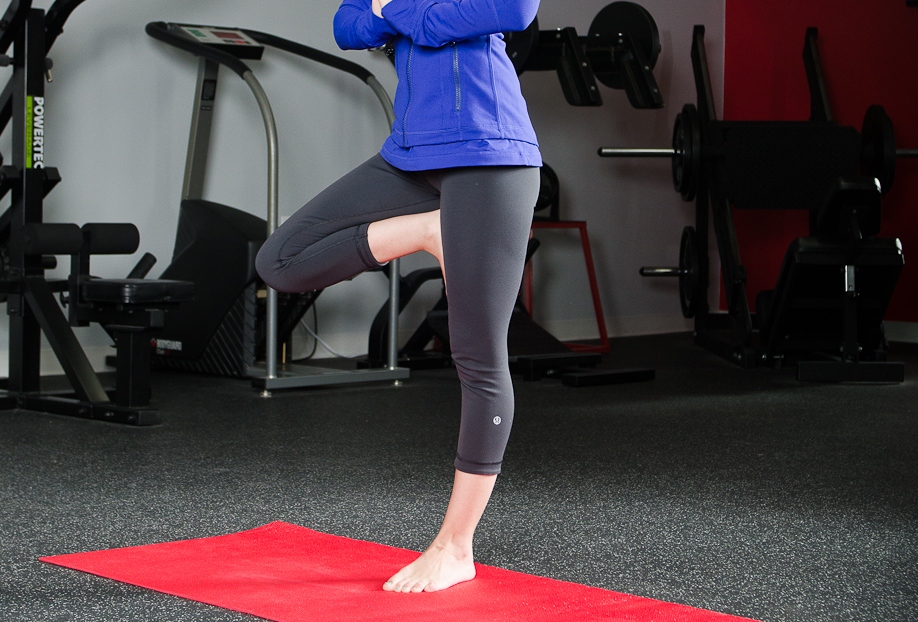 Yoga brings together the connection between the physical, mental and inner body awareness and helps to create a healthier and happier lifestyle along with a new zest for life. All classes at Me First Fitness involve a Hatha Flow suitable for beginner or advanced students
SAND BELL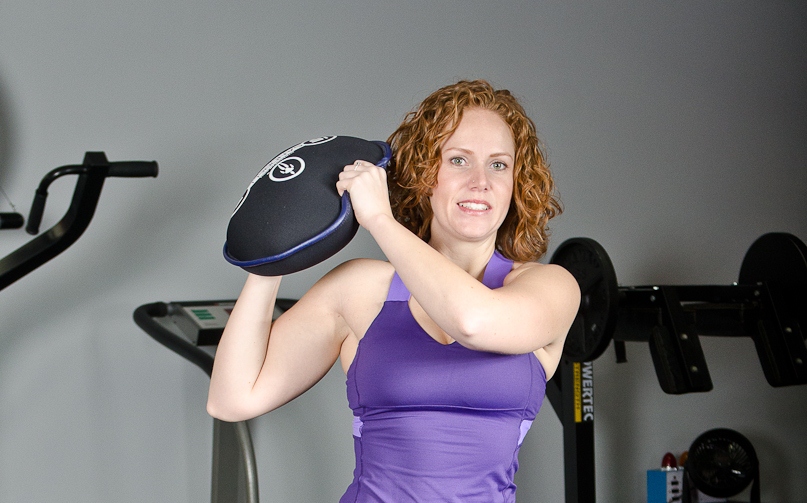 The Sand Bell is a cross between a sandbag, a dumbbell, a barbell, a grip bag, a medicine ball, a slam ball, a stability pod, a gliding disk, and a kettlebell. Made of tough stretchy neoprene, the Sand Bell is a versatile and enjoyable functional training tool that can be tossed, slammed, thrown or caught.
LANDMINE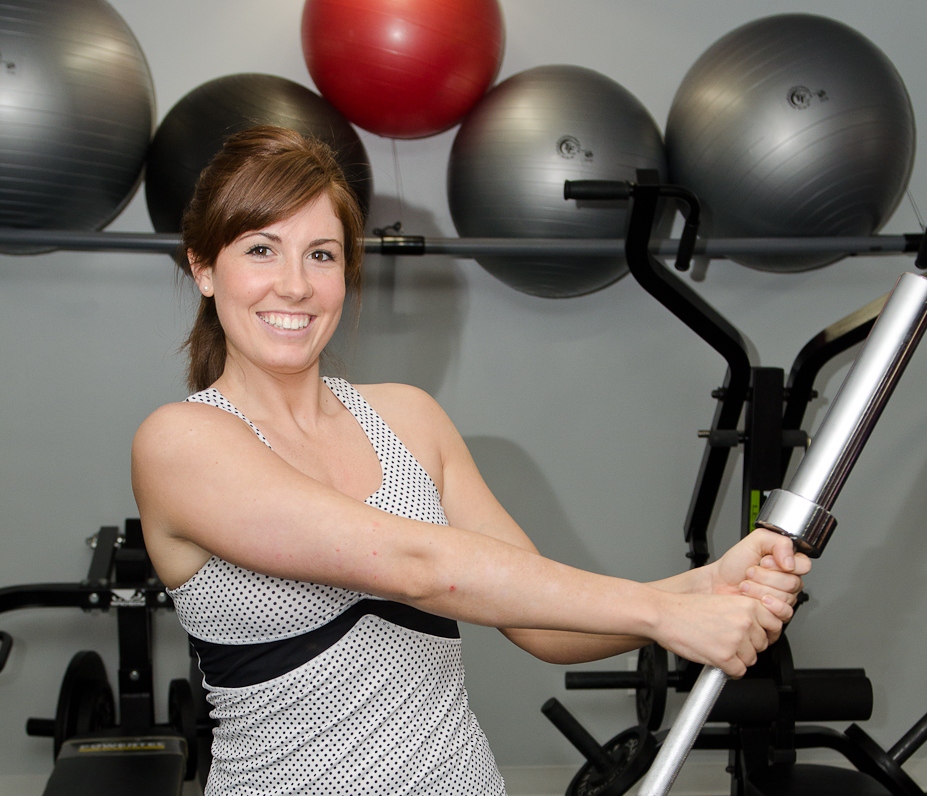 A ground-based rotational training device that works the entire body. Perform explosive 1- and 2-arm movements and other rotational exercises simply by inserting any Olympic-size bar into the 12" pivoting sleeve at the unit's base. Combine with the Wide Handle or the Narrow Handle for work that targets the shoulders, core, and hips.
LEBERT EQUALIZER BARS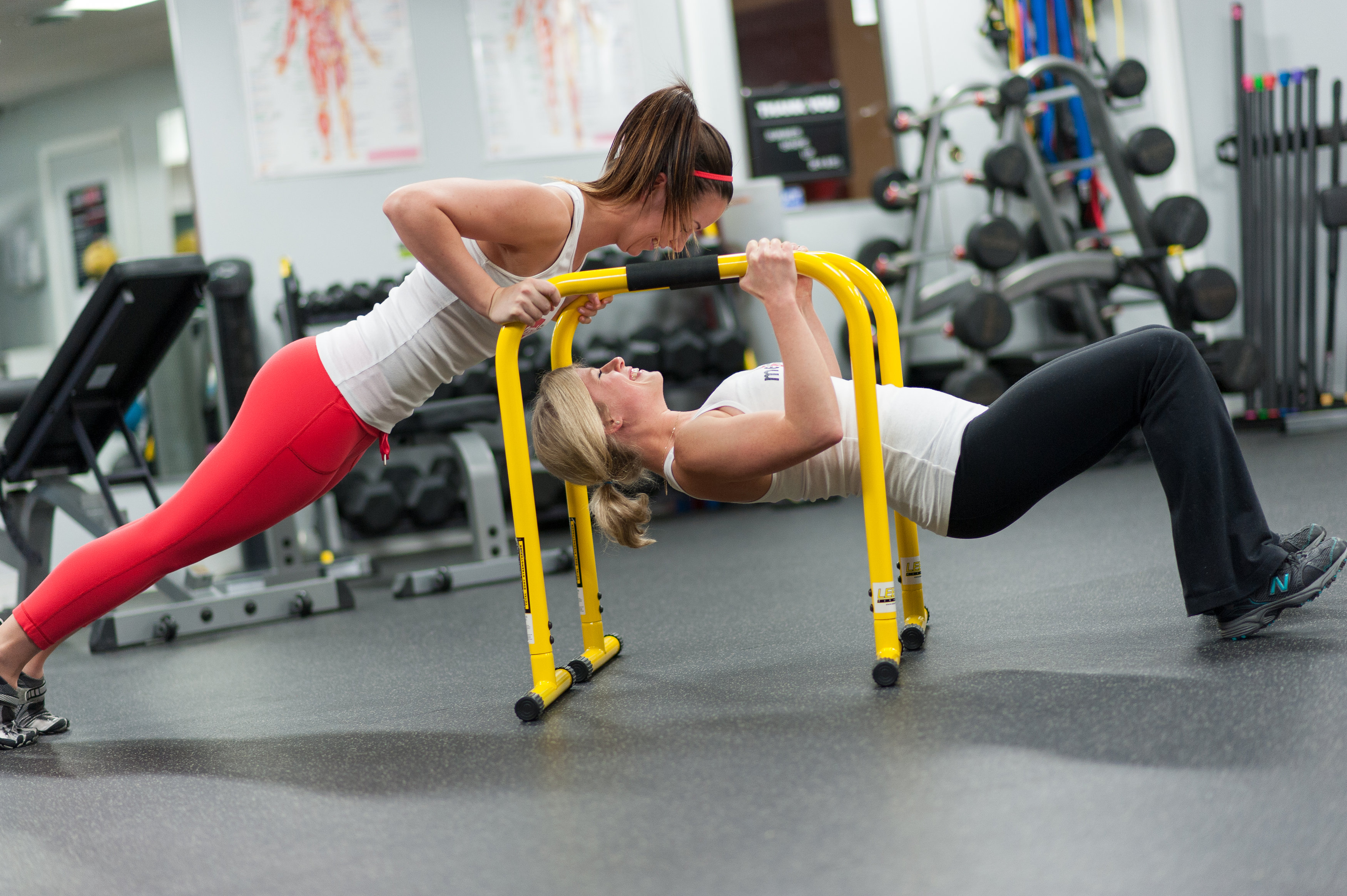 Participants use their own body weight as resistance and decide what level is right for them by "self-spotting". Self-spotting means the legs can be used to assist the user to perform exercises and/or when they cannot continue an exercise. A simple modification (usually leg placement) can allow for the set to be extended. With the ability to easily add more repetitions (without having to stop and change a pin in a machine or have someone helping) this product becomes very versatile. This simple versatility allows the user full control over the amount of body-weight used for a given exercise. The result is greater muscle endurance and strength.
REEBOK CORE BOARD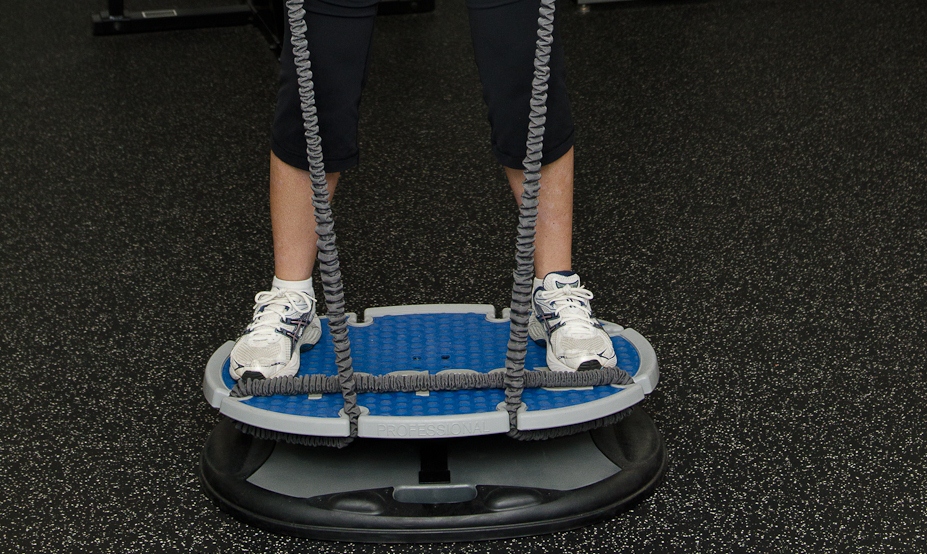 The Core Board is durable platform that is half a foot off the ground and connected to a wide and stable base through a rubberized disk. The Core Board tilts, rocks and swivels in all directions. You can increase the challenge of platform or lock the platform so it is closer to a stable step. The core board has been a great addition to our gym. We have found it to be great for balance, lower and upper body training and we use the core board is especially useful with exercise rehabilitation and post-rehab clients.
AGILITY LADDERS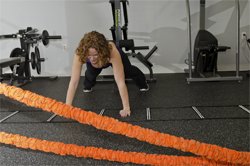 The Elite Agility Ladder is a must-have piece of fitness equipment for developing foot speed, agility, quickness and reaction time. Commonly used by athletes and professional sport's teams, we have found the benefits of the agility ladder to be more than useful for the average personal training client. We can all benefit from a quicker reaction time, being more agile with our side to side movements and changing direction rapidly is very useful in day to day life, activities and jobs.
BURN MACHINE SPEED BAG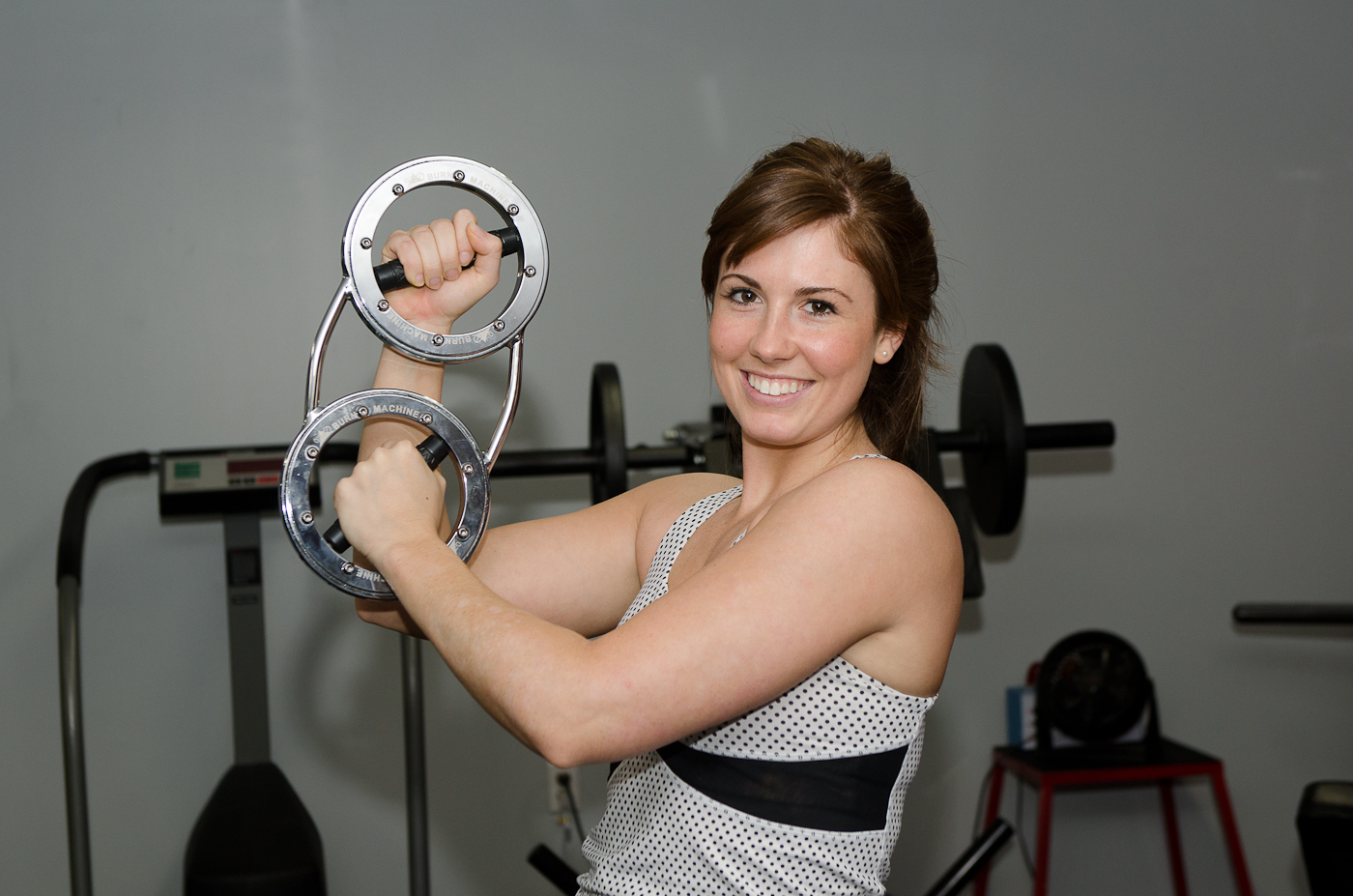 Simulate traditional speed bag punching techniques with this weighted metal device. Forwards, backwards, up and down, or side to side. The speed bag comes in sizes 4, 8 and 12lbs and can be used for cardio vascular, abdominal and muscle endurance training exercises.
UGI Ball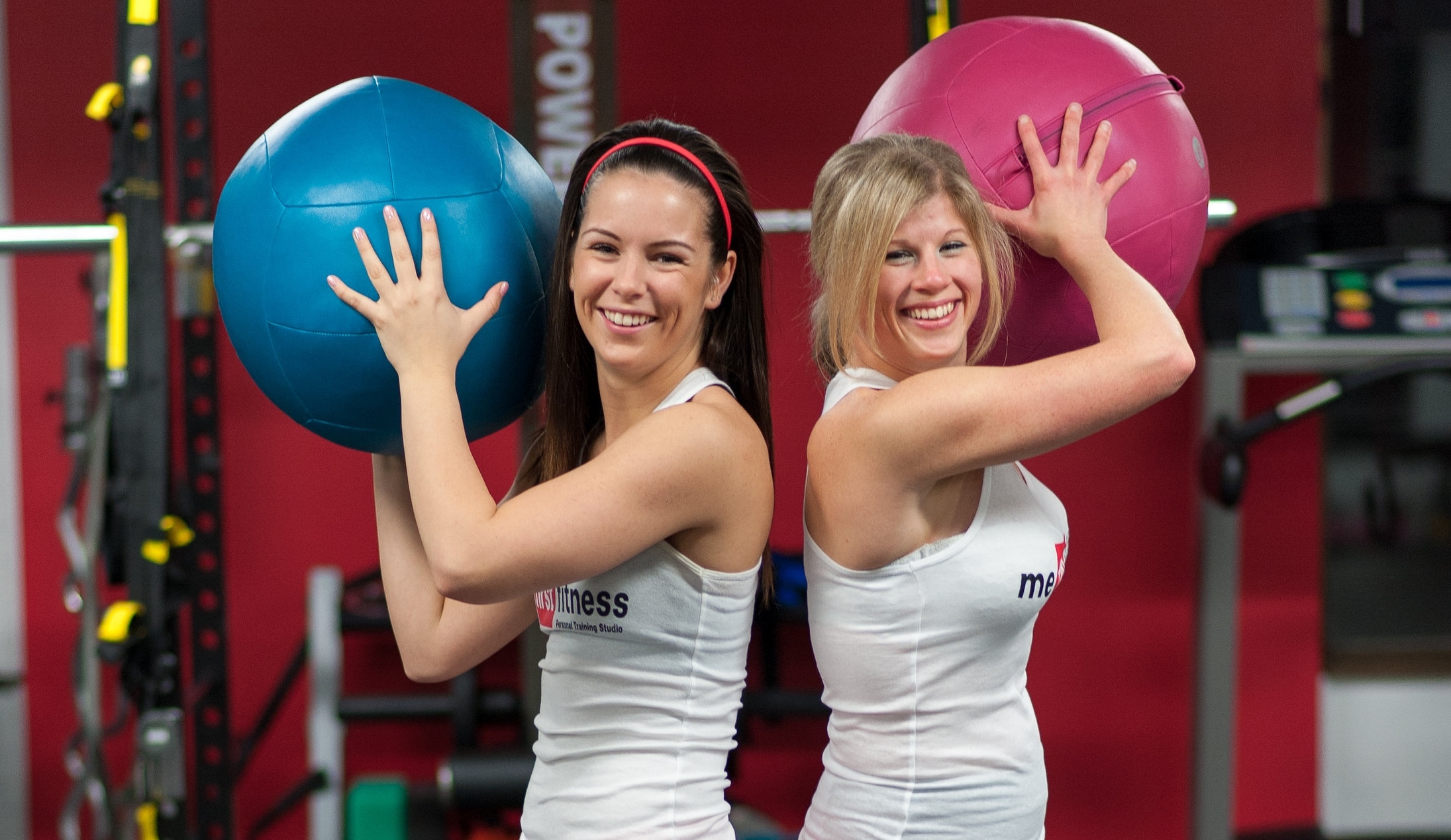 Ugi is the ultimate 30-minute workout that combines strength, cardio and core training into the most fun, challenging, stylish way of becoming functionally fit. Ugi is a workout that can be done by anyone, and that makes people feel good about their bodies, energy and health.
Buddy System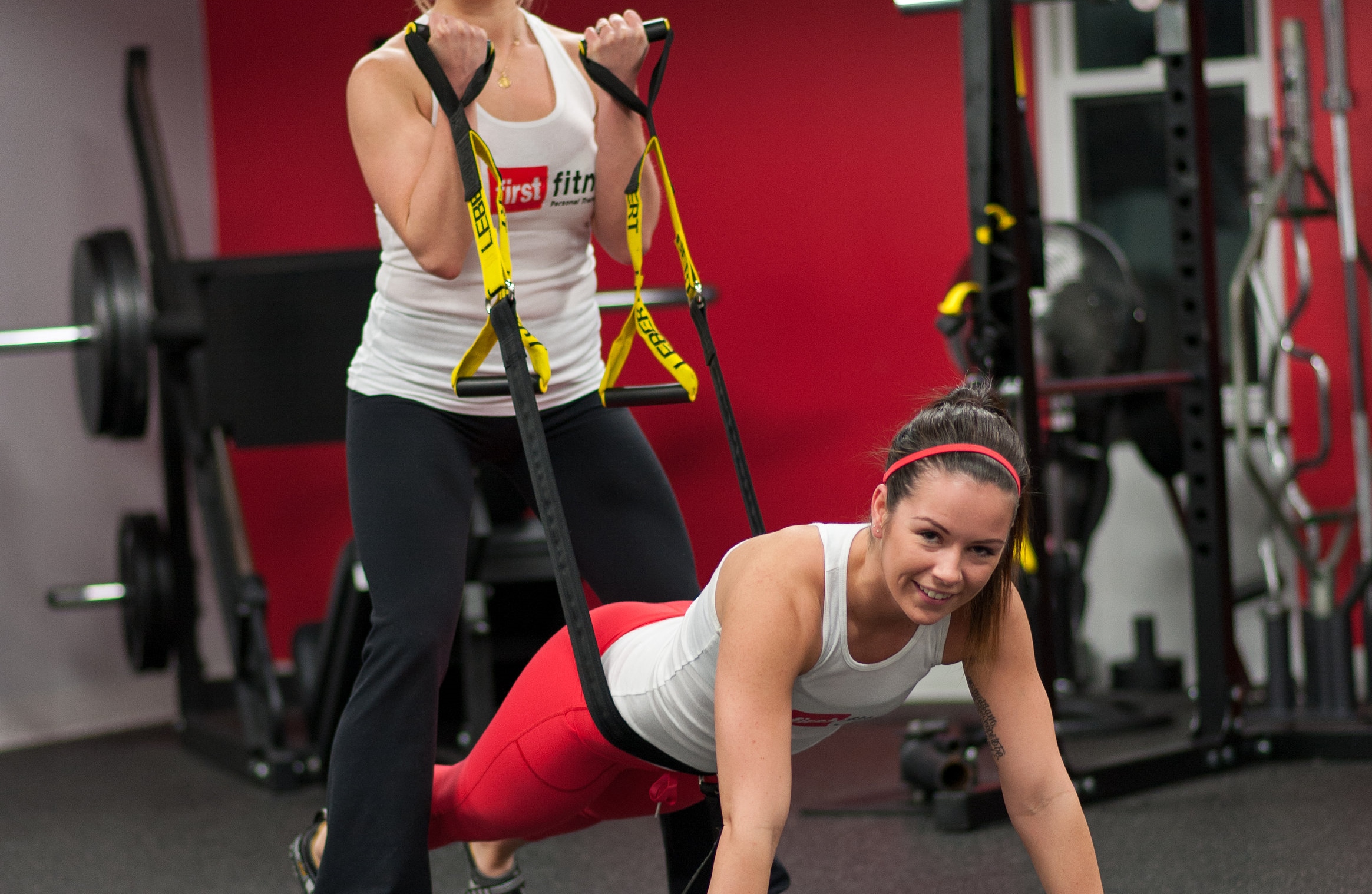 The Lebert Buddy System™ works many muscles at once, work the core, provide stability training, extend sets with variable and instant tensions changes, and a little bit of friendly competition- all at the same time! The most unique feature of the Buddy System™ is the ability to do BI-LATERAL training. The middle strap moves smoothly through a centre ring (with handle) allowing for one arm to provide resistance for the other. Tension can be dialed up or down instantly-making for a quick and extremely effective workout!
ViPR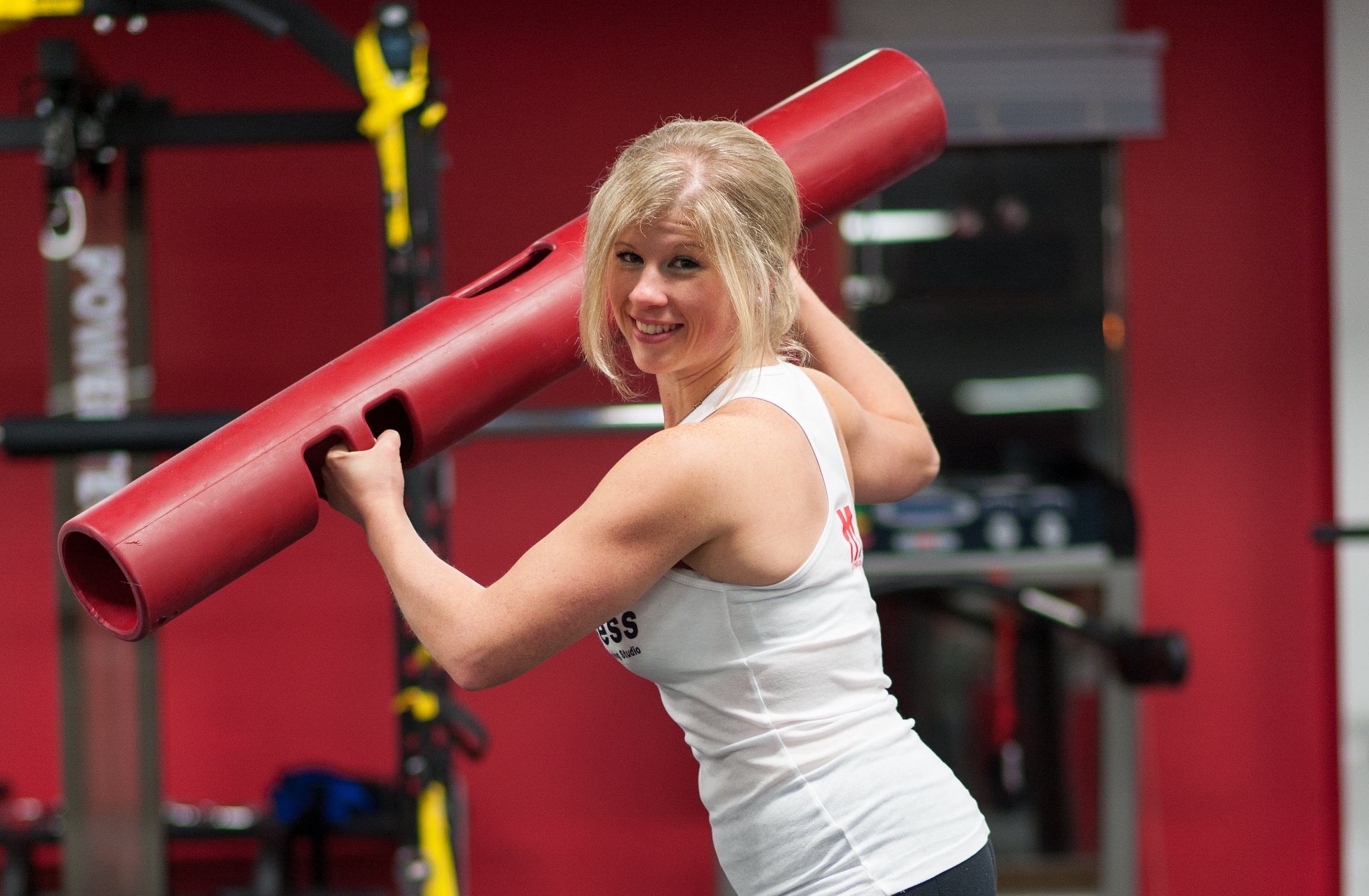 ViPR bridges the gap between movement and strength training. It combines full-body movement with load, enhancing the vitality, performance and reconditioning goals of clients and athletes. ViPR introduces a new concept in fitness and sports conditioning. Loaded Movement Training combines task-oriented movement patterning with resistance training. Agility and strength come from moving the body in a multitude of purposeful tasks with load, just like back on the farm.
Surge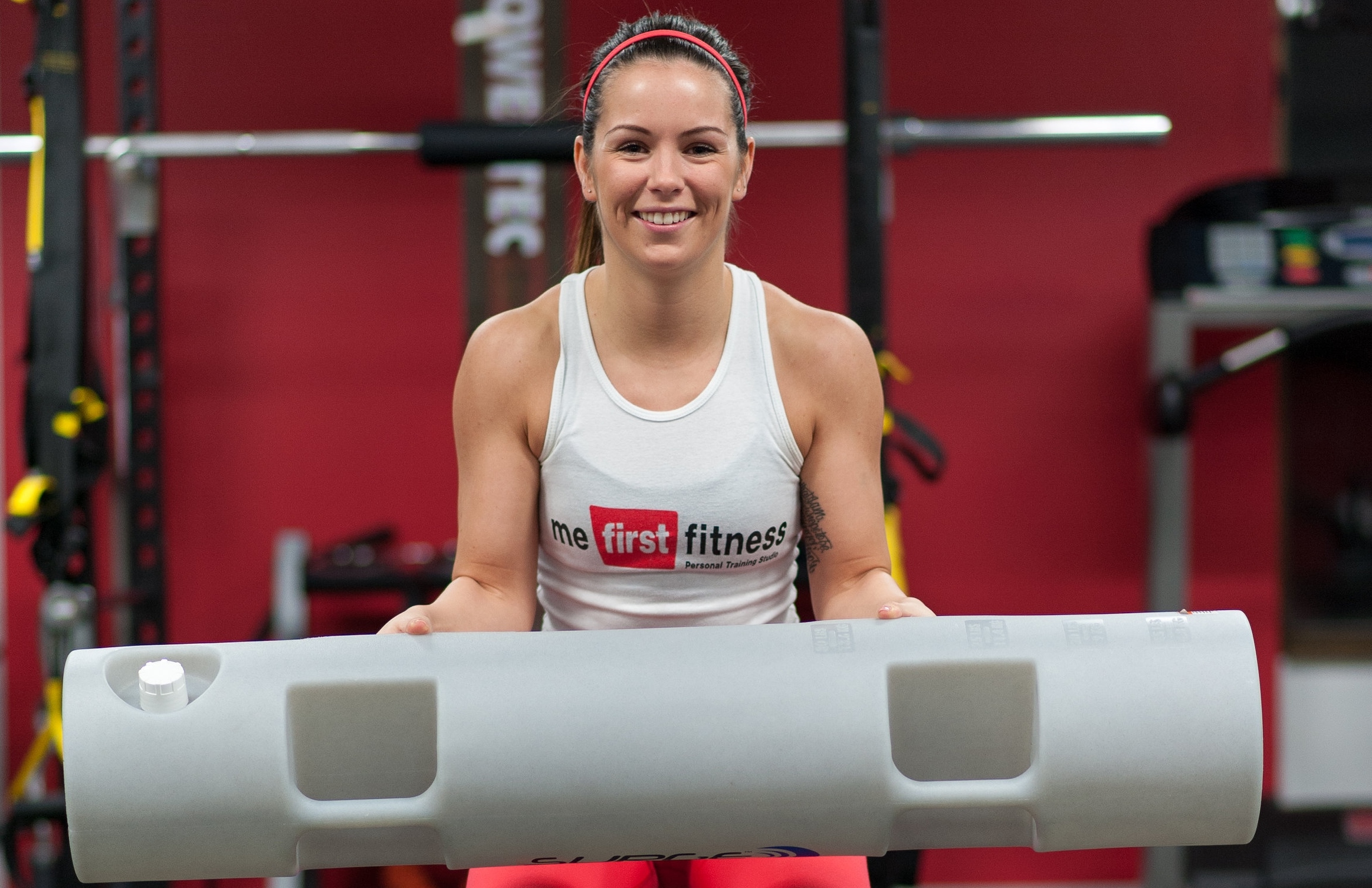 Dynamic-Fluid Resistance Training Most athletes, trainers and fitness enthusiasts are continually in search of new, cutting-edge training methods to improve health, fitness and performance. The SURGE™ is a specialized training device that utilizes fluid to create a "dynamic" form of resistance. This forces the user to challenge both traditional exercises, as well as sport and activity specific movement patterns. As a result, this training apparatus provides a very unique challenge to the joints and stabilizing structures to resist and control the unpredictable nature of the shifting water within this device.